The Catanduanes Tribune
Rawis, Virac
Catanduanes,
Philippines - 5001
Tel. No.:
(052) 811-1267
or 811-2640
Fax No.:
(052) 811-1267
E-mail:
Publisher-Editor
Edwin A. Gianan
Advertising-
Circulation
Manager
Simeon G. Cueno
Web Master:
Calgary, Canada

Teachers cleared of graft charges
The seven-year ordeal of couple working as public school teachers came to an end last week when they were acquitted of charges that they profited from a land exchange deal involving a school site in Baras 15 years ago. [FullStory]

ON VITAL PROJECTS. Gov. Hector S. Sanchez discusses the province's 2000 Annual Investment Plan during last week's meeting of the Catanduanes Development Council. Beside him is former Gov. Vicente M. Alberto.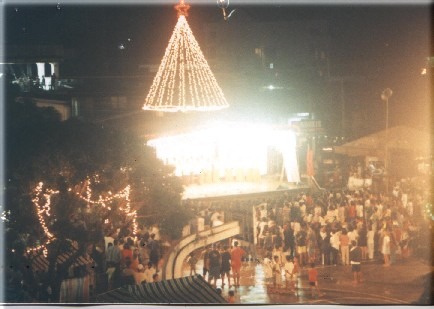 THE CHEERS UNFOLDS. Christmas Cheers 2000 opens with blazing lights and the trademark Christmas tree atop the Plaza Rizal stage last Saturday, with Hablon Dawani turning out another magnificent performance.

LIFE SAVERS. Several males volunteered to donate blood to the Red Cross at its tent at Plaza Rizal during the Dec. 7 festivities, generating enough blood to save lives in the future. At center (with camera) is PNRC Catanduanes Chapter OIC Dave Templonuevo.