2 more face same fate
COMELEC asked to bar two candidates for mayor
The Commission on Elections (COMELEC) has received separate petitions to declare an aspirant for San Miguel's top post as a nuisance candidate and to disqualify Lakas-NUCD's mayoral bet in Bagamanoc for being a US citizen, with two more poll bets expected to be the target of similar cases.
Last week, petitioners Florendo P. Bernal and his running mate, former Kag. Victorio R. Plantilla, formally asked COMELEC to declare as nuisance and/or deny due course to and cancel the candidacy of Armando T. Bernal for the post of municipal mayor.
The duo said Bernal, a former barangay captain from Obo, filed his certificate of candidacy last Feb. 28, 2001 "to put the electoral process in mockery and disrepute."
According to the petition, Bernal, who is running as an independent candidate, is jobless and has no visible source of income. It added that "he is incapable of undergoing a full-blown campaign; neither is he financially capable to spend even for his propaganda materials."
Bernal and Plantilla claimed that the ex-village chief was only prevailed upon to file his candidacy during the last day of filing by Mayor Francisco T. Camano, Jr., Florendo Bernal's archrival, and will cause confusion among the voters due to the similarity of names.
They told COMELEC that Bernal "has no bona fide intention to run for office," as he was never known in his own barangay that he would be a candidate that his barriomates were surprised to learn of his candidacy for mayor.
On the other hand, former provincial board member Ruben B. Gonzales's petition filed with the COMELEC last Monday claimed that Tito V. De Leon, mayoral candidate of Lakas-NUCD-UMDP, is ineligible and disqualified from running for Bagamanoc's highest post as he and his family are permanent residents and citizens of the United States of America.
Gonzales alleged that de Leon did not renounce and waive his US citizenship in accordance with election laws before he filed his certificate of candidady last Feb. 28, 2001. He said that as early as Feb. 2, he wrote the US embassy to confirm whether de Leon had obtained American citizenship but the embassy replied that he is no longer within the Philippine consular district. American Citizen Services Branch chief Paul L. Boyd told Gonzales that the Privacy Act of 1974 prohibits the release of information without the consent of the person concerned.
The petition claimed that on or about 1970, de Leon transferred residence to the USA where he permanently and continuously resided with his wife and children at No. 7795 Beverly Drive, Rohnert Park, California until Oct. 26, 2000 when he visited Bagamanoc "only to register as voter in Precinct No. 7-A in barangay Poblacion. The registration was approved on Jan. 11, 2001. It added that after his registration, the respondent returned to the US and came back again to file his certificate of candidady last month.
It stressed that from 1970 to date, or a period of 28 years, de Leon was never a registered voter of Bagamanoc and never voted in any national, local and barangay elections therein. "To aggravate matter," Gonzales said, "the respondent registered as voter in Precinct No. 7-A… while in his Certificate of Candidady, he claims to be registered in Precinct No. 2-A."
A perusal of the certificate shows that de Leon, who claimed to be an `investor,' had resided for 27 years in the country and 39 years in Bagamanoc. But a joint affidavit by Poblacion barangay captain Senen Villaluna and day care worker Leonisa Villalon averred that de Leon indeed was out of the municipality from 1970 to Oct. 2000 when he took a vacation. The duo said that during the same period, de Leon never voted in in any barangay or local election during the period and never resided in the barangay as he has no residential house in Bagamanoc. It is claimed that de Leon reportedly brought a $200,000 war chest for the campaign.
Political analysts say these could be followed in the next few days by similar disqualification moves against two candidates for governor.
They cited the candidacies of Gregorio S. Verceles and Romeo T. Torres, Jr. for governor, both as independents. A businessman from Palawig, San Andres,
Verceles' surname is similar to top Lakas-NUCD-UMDP bet Rep. Leandro B. Verceles, Jr. On the other hand, Torres, who uses the handle "John Torres" in his regular column in the Sanchez-backed Catanduanes Chronicle, presented "Kuya Jun" as his nickname in the certificate of candidacy he filed with COMELEC, similar to the "Jun" used by the graduating congressman.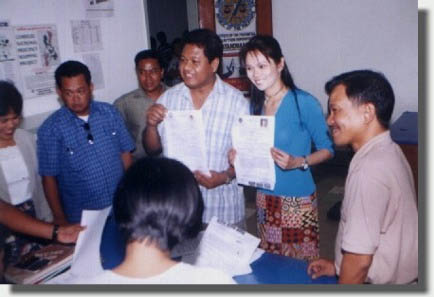 BUY ONE, TAKE ONE. Rep. Leandro B. Verceles, Jr. and wife Natsy Verceles are all smiles after filing their certificates of candidacy as governor and congressman, respectively, with the COMELEC provincial office last week.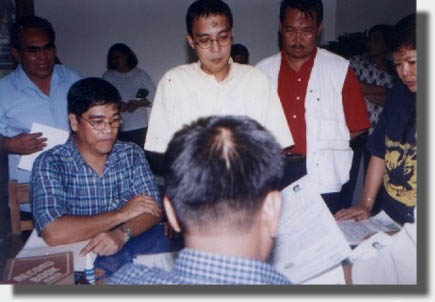 SERIOUS ABOUT RUNNING. Coalition candidates Cesar Sarmiento (sitting), Joseph Santiago and Gov. Hector S. Sanchez displays the seriousness of their campaign as they wait for COMELEC to accept their papers.
Picture Not Available
ABANDONED, AGAIN? More than 50 flitches of illegally cut lumber seized by police in Pagsangahan, San Miguel may end up being declared "abandoned" if the owner, allegedly a candidate for mayor, has his way.
The Catanduanes Tribune
Rawis, Virac
Catanduanes,
Philippines - 5001
Tel. No.:
(052) 811-1267 or 811-2640
Fax No.:
(052) 811-1267
E-mail:
Publisher-Editor
Edwin A. Gianan
Advertising-Circulation
Manager
Simeon G. Cueno
Web Administrator:
Calgary, Canada