The Catanduanes Tribune
Rawis, Virac
Catanduanes,
Philippines - 5001
Tel. No.:
(052) 811-1267
or 811-2640
Fax No.:
(052) 811-1267
E-mail:
Publisher-Editor
Edwin A. Gianan
Advertising-
Circulation
Manager
Simeon G. Cueno
Web Master:
Calgary, Canada

Prospects dim for San Miguel hydro project
Efforts for the development of the proposed Kapipian mini-hydroelectric project in San Miguel town faces difficulty at the provincial government even with the signing of a consultancy contract. [FullStory]

PNRC ASSEMBLY. PNRC Secretary General Lourdes R. Loyola

addresses members of the Catanduanes chapter board during its Biennial Assembly at the capitol dome last

Dec. 28.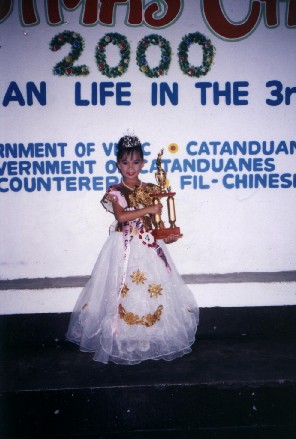 LITTLE MS. CHRISTMAS CHEERS 2000 Christine A. Talaran poses for the camera after winning the crown last week.